On October 8th 2011, Brooklyn will host the U.S. debut of the Independent Label Market, in conjunction with Brooklyn Flea's fourth annual Superstar DJ Record Fair. We are excited to announce that Minimal Wave will be participating in this very special event.
Our table will feature all the LPs we have in stock and some special items which have long been out of print. We will also be showcasing two new hand-silkscreened tote bags, available for the first time ever! Along with buttons, slipmats, DVDs, CDs and more.
Further information posted via the event's Facebook page:
Brooklyn Flea's 4th annual record fair teams up with the US debut of London's Independent Label Market.
* DOMINO * XL * FOOL'S GOLD * 4AD * MEXICAN SUMMER * TRUE PANTHER * DFA * ANGULAR * KANINE * SACRED BONES * THRONE OF BLOOD * YOUNG TURKS * CAPTURED TRACKS * MINIMAL WAVE * WIERD * TERRIBLE * SECRETLY CANADIAN * JAGJAGUWAR * DEAD OCEANS * WHAT'S YOUR RUPTURE? *
Zeke Baker * EAT Records * halcyon the shop * Killer Diller * Mister Saturday Night (Justin Carter + Eamon Harkin) * Neurotic Drum Band (Ulysses + Selway) * Doug Mosurock + John Allen * Piotr Orlov * Bert Q (Other Music) * Sepiatone * Sound Fix * Stooz Records * Aaron Van Deursen * Robert Watlington * WrecordsByMonkey
Brooklyn Flea's 4th annual Superstar DJ Record Fair will take place Sat., Oct. 8, inside the Flea's Smorgasburg food market on the Williamsburg waterfront. It will feature about 20 vintage record dealers, plus 20 vendors as part of the Independent Label Market, which launched in London in May and is making its US debut at the record fair. ILM features top labels from the world's best music cities, with the heads of those labels manning the booths, selling their own products—new, catalog, rarities—at this unique and intimate new format for record-buying.
This year's record fair will also include a kids' disco party, with DJs Justin Carter and Eamon Harkin (of Mister Saturday Night) as MCs (Noon-2pm). Then label owners and special guest artists will take spins on the open turntables for the remainder of the event. Also, for music fans young and old, there will be album-cover face-painting all day!
The Flea and ILM are working with three of New York's top music entities to make the record fair a success: MTV Hive, MTV's home for passionate music fans, featuring mp3s, videos, interviews, live events and more; The Daily Swarm, the daily destination for those addicted to music news; Other Music, New York City's best record store, which is partnering with the Record Fair for the 4th straight year, including a booth with its employees selling their own records.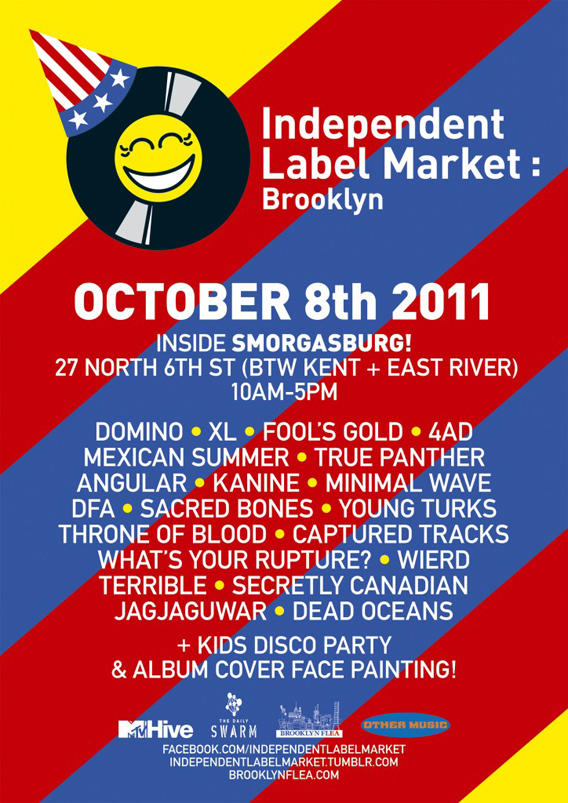 http://www.brooklynflea.com
http://www.independentlabelmarket.tumblr.com
http://www.facebook.com/pages/Minimal-Wave/81694526533
http://www.facebook.com/independentlabelmarket
http://www.facebook.com/event.php?eid=278699778823652